(Reg'd)
(Je parle francais!)

Champions in Conformation, Obedience & Companionship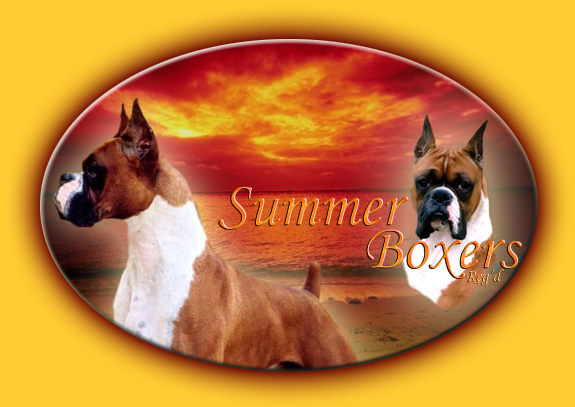 Graphic Artwork by Naomi Gibbs. Pictured: Multi-BIS Am. Can. CH. Summer's Dash Riprock,Am/Can SOM

Click here to see what is NEW on this site!!
~updated November 30, 2023~
Hi, my name is Josie O'Reilly and am located in Edmonton, Alberta, Canada. I am known to some as a bit of a Boxer fanatic! I spend most of my spare time training, showing, handling and doting upon my Boxers. We have had Boxers since 1990. Our Boxers are all a part of our family and live in our home, often times there is no room on the furniture for us! They also travel with us on family vacations as much as possible. When we make a decision to keep a Boxer puppy in our home, they are with us FOREVER! All of our litters have been temperament tested including the Boxers remaining in our home whom have also all taken formal Obedience training starting with Puppy Kindergarten at a very young age and onto classes in another performance activity (e.g., Agility, Rally-O, Scent Hurdle Racing...etc) whether or not they go on to achieve the titles. We believe in formal training, in a class environment, as it not only enhances the bond between owner and dog but also provides a fun & structured manner to socialize your Boxer.
We do not breed often, a breeding is only considered when we are ready to add another Boxer to our household. I also enjoy: keeping in touch, staying involved with, providing advice, support and help with training, as much as is possible for the lifetime of all Boxers that I have produced as well as the Boxers that are sired by our males. Since I don't breed often I am willing to provide breed information & referrals to responsible breeders (as opposed to back yard breeders) that may have upcoming litters or available puppies.
NOTE: Our dogs are screened for the following health conditions prior to breeding:
- sub-aortic stenosis (heart condition) by board certified cardiologists
- Boxer cardiomyopathy - Arrhythmogenic Right Ventricular Cardiomyopathy Mutation (ARVC) (heart condition)
- Hip Dysplasia (OFA)
- Hypothyroidism
- Eyes (CERF)
- Degenerative Myelopathy (DM)


I am a member of the :
American Boxer Club (since 2006)
Alberta Boxer Club (ABC) (since 1992) - Lifetime Membership Award (20 years)
Boxer Club of Canada (BCC) (since 1995) - Lifetime Membership Award (25 years)
Canadian Kennel Club (CKC) (since 1993)
Northern Alberta Canine Association (NACA) (1993-2005)
Canadian Scent Hurdle Racing Association and the Alberta Scent Hurdle Racing Association (past member).

My hobbies are walking, flower gardening, reading, drinking my husband's coffee from his own fresh coffee beans roasted almost daily, dog shows & activities (Obedience, Conformation, Agility), continually educating myself about dog behaviour, genetics, health, nutrition, & Boxers... but most of all spending time with my Boxers.


Dash Riprock was the TOP BREEDER OWNER Handled Boxer in Canada in 2003 (#3 overall & #1 Male Boxer in Alberta; BCC rankings) after only 12 weekends of showing.
Dash was the #2 Top Boxer Sire in Canada in 2004. He is an AMERICAN and CANADIAN SIRE of MERIT.
Dash also won Winners Dog at the 2002 American Boxer Club Regional Specialty (5 pt Major) & Best Bred By Exhibitor at the 2002 Pacific Northwest Regional Specialty ...AND attained his AMERICAN CHAMPIONSHIP the very next weekend!!
(please click on "DASH RIPROCK" to see photos, links to his show record, pedigree and to Tribute & Legacy pages to him).


Mr. Spock was the 2018 American Boxer Club (ABC) Sire of Merit with the MOST PERFORMANCE TITLED GET!
Mr. Spock finished his American Championship with THREE 5 point Majors, one of them owner handled by me on the hugely competitive Montana circuit! Mr. Spock then wins an AWARD OF MERIT at the 2006 BOXER CLUB OF CANADA NATIONAL SPECIALTY (owner handled by me)!! Mr. Spock is also a successful PRODUCER (American & Canadian Sire of Merit) , PERFORMANCE Boxer and our FIRST VERSATILITY BOXER!
(Son of "DASH RIPROCK". Please click on "Mr. SPOCK" to see him & his pedigree).


GiGi was the Top Owner Handled Boxer Puppy in Canada in 2008. GiGi is a Multi-Best Puppy in Show, Multi-Best Puppy in Specialty (Grand) Sweeps, Best Puppy in Group Specialty, Multi-Best of Breed and Group winner (owner handled by me)!!
(Daughter of "Mr. SPOCK". Please click on "GiGi" to see her & her pedigree).



Maynard is the result of Lloyd C. Brackett's "Ideal Breeding": "The sire of the sire is the grandsire of the dam, dam's side".
Maynard was the 2018 TOP BOXER SIRE in Canada and the #3 Boxer in Obedience in 2018 & 2019!
(Son of "DASH RIPROCK" and "GiGi"; half brother and grandson of "Mr. SPOCK". Please click on "Maynard"to see him & his pedigree).



The Foundation of SUMMER BOXERS and a succesful Obedience Boxer!
(please click on "STELLA" to see her & her pedigree).

Our FIRST Performance Boxer!
(please click on "KAFKA" to see photos & read more about him & his achievements)




Updated July 18, 2023


(please click on "PUPPIES" for AVAILABILITY of puppies or litters sired by "DASH RIPROCK" or "Mr. SPOCK" or "MAYNARD" or by their kids)
STELLA, DASH RIPROCK, Mr. SPOCK, MAYNARD, GiGi & MISS JANE KIDS in the RING!
"Maynard", "Mr. Spock", "Dash Riprock" KIDS updated November 30, 2023!
(click on button above to see progeny from "STELLA","DASH RIPROCK", "Mr. SPOCK" & "MISS JANE" that are currently being or will soon be shown in the show or performance rings).

PAST LITTERS
Updated January 30, 2022
(please click on button above to see"STELLA" & "MISS JANE's" progeny from their litters).

FAMILY ALBUM & FAMILY ALBUM II
(please click on button above to see fun photos of "SUMMER BOXERS" & their "FRIENDS").

FRIENDS
(please click on button above to see fun photos of "SUMMER BOXERS" with their doggy friends).

LINKS
(please click on button above to find lots of useful information).






This website was created on October 30, 1997 by Josie O'Reilly & updated on November 30, 2023.
I can be reached via e-mail at: boxrlady@telus.net